JESUS: OUR PERFECT EXAMPLE
THE BOOK OF JAMES
---
James writes his letter
c. AD 46–61
James leads Jerusalem Council
c. AD 50
James martyred in Jerusalem
c. AD 62–69
Jesus transforms every aspect of life. All of the New Testament letters describe the transformation that the Good News brings to those who embrace it by faith. The book of James is unique in its singular focus on this theme. James, the half brother of Jesus, is thought to be the author of this book bearing his name. He wrote to the believers scattered abroad who were undoubtedly facing persecution for their faith in Christ (1:1).
James begins his letter by challenging believers to find joy in the midst of their suffering. They can find comfort in the knowledge that God is using these trials to make His people holy (1:2-4). Though they were a scattered, persecuted minority living among idolatrous nations, believers could have hope that God was at work.
Christians today also can seek wisdom from the Lord and find guidance for faithful living (1:5-7). God provides wisdom to His people through His Spirit and His Word, and believers honor God when they listen to the voice of God and obey what He says (1:19-27). James connects one's faith in God with their obedience to His commands. He wrote that one who professes faith in Christ but lives in rebellion to His commands is a liar (2:14-26). The connection between faith and obedience, according to James, should be seen in the way a Christian loves and serves others (2:1-13), guards their speech from sin (3:1-12), and rejects worldly forms of wickedness and rebellion from God (4:1-10). James bookends his letter with another reminder of patient suffering in light of the coming return of Christ (5:7-11). Endurance under this kind of intense suffering requires Christian community—other believers who are given by God to pray, love, and serve one another, as they together seek to obey God.
Though James does not speak at great length about Jesus, it is clear that the principles he outlines in his letter follow the model set forth by Jesus during His earthly ministry. As the perfect Son of God, He patiently suffered with an awareness that He was fulfilling the Father's perfect plan. All the while, He modeled virtues that James calls the church to embody. By fixing their gaze and affections on Christ, they could be doers of the Word and not merely hearers only.
---
COUNT IT ALL JOY, MY BROTHERS, WHEN YOU MEET TRIALS OF VARIOUS KINDS.
JAMES 1:2
---
S O A P
SOAP is a Bible study method that we believe will help you grow in your walk with Jesus. It stands for Scripture, Observation, Application, and Prayer. Follow the steps below to journey along with us through the book of James.
SCRIPTURE
Get to a place where you can focus and read the daily scripture several times. Rewrite portions that stuck out to you; consider rewriting the verse(s) in your own words.
OBSERVATION
Make a basic observation about the scripture you have just read. What stood out? Was something repeated? What is the author trying to communicate? What does this teach you about God? What does it teach you about humanity?
APPLICATION
Ask, "What does this verse mean for my life?" How might this verse affect your heart - what you feel? How does this verse challenge your thinking? How does it affect your will, asking, "What changes do I need to make in my life as a result of this passage of Scripture?"
PRAYER
Write out a prayer to God. Scripture is God speaking to you, take this moment to speak back. Take a moment to say, "Thank you," or confess to Him what needs to change.
---
JAMES 2, PT. 2
MAY 17, 2020
KEY SCRIPTURE (JAMES 2:14-26):
What good is it, my brothers, if someone says he has faith but does not have works? Can that faith save him? If a brother or sister is poorly clothed and lacking in daily food, and one of you says to them, "Go in peace, be warmed and filled," without giving them the things needed for the body, what good is that? So also faith by itself, if it does not have works, is dead.
But someone will say, "You have faith and I have works." Show me your faith apart from your works, and I will show you my faith by my works. You believe that God is one; you do well. Even the demons believe—and shudder! Do you want to be shown, you foolish person, that faith apart from works is useless? Was not Abraham our father justified by works when he offered up his son Isaac on the altar? You see that faith was active along with his works, and faith was completed by his works; and the Scripture was fulfilled that says, "Abraham believed God, and it was counted to him as righteousness"—and he was called a friend of God. You see that a person is justified by works and not by faith alone. And in the same way was not also Rahab the prostitute justified by works when she received the messengers and sent them out by another way? For as the body apart from the spirit is dead, so also faith apart from works is dead.

---
AS THE BODY APART FROM THE SPIRIT IS DEAD, SO ALSO FAITH APART FROM WORKS IS DEAD.
JAMES 2:26
---
FAITH AND WORKS
At first glance, James' statements concerning justification seem to contradict the message of the apostle Paul. In James 2:24, James declared that "a person is considered righteous by what they do and not by faith alone." But in Romans 3:28, Paul wrote that "a person is justified by faith apart from the works of the law." This raises a critical question: Are Christians saved by faith in Jesus alone or by faith combined with their own efforts? It is important to note that these men were not as far apart as the above quotes seem. James and Paul knew each other. They were both major contributors at the first church council in Jerusalem, which assembled specifically to address the relationship between faith and works. As recorded in Acts 15, they arrived at a consensus.
Paul preached that a person is declared to be in a right relationship with God by grace alone, through faith alone in the finished work of Jesus, with no basis whatsoever in works (Romans 3:28; Galatians 2:16; Ephesians 2:8–9). At the moment of conversion, God sends His Spirit into the new believer (Galatians 3:26; 4:6). Paul describes this as a new birth. The Spirit then works within the Christian to manifest good works. Paul said that true saving faith expresses itself through love (Galatians 5:6). Loving deeds display outwardly the inward change that has occurred by grace through faith.
James also declared that a person enters a right relationship with God by the grace of God alone. Like Jesus (John 3:3–8), James used birth imagery to describe conversion. James stated that God "chose to give us birth through the word of truth" and then planted that word in the souls of believers (James 1:18,21). James then went to great lengths to explain that this kind of faith manifests itself in loving acts toward those in need (James 1:27). According to James, acts of love toward God and others display the inward faith of the believer. This stands in complete agreement with Paul.
Tensions in the verses quoted at the outset are resolved when one understands that Paul and James used the word "justification" in different ways. The word can mean "declared to be in right standing" or "displayed to be right standing." Paul used the first sense. God declares an individual to be in right standing with Him upon the basis of faith alone, as occurred with Abraham in Genesis 15:6. James used the second sense. A person's faith is shown to be legitimate when their outward works display the inward change that has taken place as a result of their conversion. Faith alone saves, but the faith that saves is never alone.
DISCUSS
In verses 15–16, James gives us a YouTube video, sort of. It would be a clever comedy sketch if it weren't so sad. How does it go?
What's the answer to the question in verse 16? What good is it to offer good wishes but no practical help?
In verse 18, we see two kinds of faith. How are they described?
So then, verse 19 is referring to the "without works" kind of faith. What does it say about that kind of faith?
Why do you think James chooses the oneness of God as the example of basic faith, and not, say, the atoning death of Jesus?
In James 2:20–24, there's reference to Abraham as proof of the point. What's the argument here? How does Abraham prove that "faith without works is useless"?
How did these actions demonstrate Abraham's faith?
James quotes a verse from Genesis (15:6). What does that say about Abraham's faith? What does it say about his works?
How did Abraham's actions in Genesis 22 "fulfill" the statement of Genesis 15:6?
Do you think it's significant that the faith of Genesis 15 came several chapters before the works of Genesis 22? Does faith generally come first?
Take a look at verse 25. Why would James go on to talk about Rahab?
What do you know about Rahab? What was her occupation?
How did she get herself mentioned in the Bible?
Isn't it a mistake for James to mention a prostitute as an example of good works? Why would he do this?
LIVE IT OUT
The book of James emphasizes the active side of our faith, so let's consider several ways we might put its teaching into practice.
Evaluation: Talk with God about your own faith. Do you have "faith with works" or "faith without works"? Ask him to give you the power you need to put your faith into action.
Conversation: Talk with at least one other close Christian friend about this question: Is my faith more on the inside or the outside? Both are good. Both are important. But if you just feel your faith and don't show it, you're out of balance. (It's also possible to tilt the other way, doing stuff for God, but not taking time for personal growth.)
Research: James is very specific about the needs we should be responding to—the needs of widows and orphans, as well as those who need food or clothing. Where do these needs exist in your region? And what are the best ways to help such people? Join with some others in a research projects, and share your findings with this group, or your whole church.
Serving: Can you put yourself on a regular schedule of volunteering with some ministry or charity? Tutoring each week? Staffing a soup kitchen each month? Doing a work day once a quarter? Don't just think about doing these things. Plan something and do it.
Donation: Some ministries are desperate for funds. Challenge your church leaders to support worthy helping ministries, and lead by example by giving your money to support them as well.
---
JAMES 2, PT. 1
MAY 3, 2020
KEY SCRIPTURE (JAMES 2:1-13):
My brothers, show no partiality as you hold the faith in our Lord Jesus Christ, the Lord of glory. For if a man wearing a gold ring and fine clothing comes into your assembly, and a poor man in shabby clothing also comes in, and if you pay attention to the one who wears the fine clothing and say, "You sit here in a good place," while you say to the poor man, "You stand over there," or, "Sit down at my feet," have you not then made distinctions among yourselves and become judges with evil thoughts? Listen, my beloved brothers, has not God chosen those who are poor in the world to be rich in faith and heirs of the kingdom, which he has promised to those who love him? But you have dishonored the poor man. Are not the rich the ones who oppress you, and the ones who drag you into court? Are they not the ones who blaspheme the honorable name by which you were called?
If you really fulfill the royal law according to the Scripture, "You shall love your neighbor as yourself," you are doing well. But if you show partiality, you are committing sin and are convicted by the law as transgressors. For whoever keeps the whole law but fails in one point has become guilty of all of it. For he who said, "Do not commit adultery," also said, "Do not murder." If you do not commit adultery but do murder, you have become a transgressor of the law. So speak and so act as those who are to be judged under the law of liberty. For judgment is without mercy to one who has shown no mercy. Mercy triumphs over judgment.
DISCUSS
Okay, let's be honest. Suppose the scene described in verses 2–3 were to happen this week in our church. What do you think would happen? How would we treat the two people differently?
In James 2:5–7, what does it say about the poor and the rich?
How does this connect with the previous point about favoritism?
Do you think James is promoting a "reverse favoritism," in which we welcome and honor the poor more than the rich?
What is the "royal law" James mentions in verse 8?
How does showing favoritism break that law?
According to verses 10–12, how would James respond to someone who said, "I've kept seven of the Ten Commandments. That's a passing grade, right?"
In James 2:12, James speaks again of the "law of liberty" (see 1:25). But his previous comments seem to be more restrictive, forcing us to keep every point in the law. How does the law give us freedom?
Two key words appear in verse 13. Let's define them. What is judgment? What is mercy?
How does the idea of mercy bring us back to the matter of showing favoritism?
LIVE IT OUT
The book of James emphasizes the active side of our faith, so let's consider several ways we might put its teaching into practice.
Memorization: Learn the Beatitudes. Matthew 5:3–12 or Luke 6:20–26. In a succinct way, these describe the reordering of the world from God's perspective.
Seek Counsel: If you have been working hard to keep God's rules, and you're troubled by this assertion that breaking even one command makes you a lawbreaker, talk with a pastor or teacher about this. Ask how to unpack the idea of God's "mercy."
Evaluation: If you are in a position of authority in the church, take this opportunity to evaluate the church's response to visitors—not just the stated policies, but the actual behaviors. Is favoritism shown? If so, what can you do about it?
Serving: Can you get involved in a ministry to the poor and homeless in your community? Many such ministries need volunteers and financial support. If you can't find one to connect with, perhaps you could start one.
Spiritual-Financial Audit: This might be a good time to talk with your spouse and family about the financial decisions you make. How do your spiritual principles come into play? This is more than just a review of your fiscal security, but a chance to ask, "Where does our security really come from?" How can you as a family keep from loving, serving, or trusting in money, while still being good stewards?
Prayer: Consider offering a prayer of confession, individually or with others. Ask for forgiveness if you have shown favoritism to the rich, disregarded the poor, or worshiped money.
---
JAMES 1, PT. 3
MAY 10, 2020
KEY SCRIPTURE (JAMES 1:19-27):
Know this, my beloved brothers: let every person be quick to hear, slow to speak, slow to anger; for the anger of man does not produce the righteousness of God. Therefore put away all filthiness and rampant wickedness and receive with meekness the implanted word, which is able to save your souls.
But be doers of the word, and not hearers only, deceiving yourselves. For if anyone is a hearer of the word and not a doer, he is like a man who looks intently at his natural face in a mirror. For he looks at himself and goes away and at once forgets what he was like. But the one who looks into the perfect law, the law of liberty, and perseveres, being no hearer who forgets but a doer who acts, he will be blessed in his doing.
If anyone thinks he is religious and does not bridle his tongue but deceives his heart, this person's religion is worthless. Religion that is pure and undefiled before God the Father is this: to visit orphans and widows in their affliction, and to keep oneself unstained from the world.

---
BE DOERS OF THE WORD, AND NOT HEARERS ONLY, DECEIVING YOURSELVES.
JAMES 1:22
---
LIVING FOR JESUS
The book of James is filled with practical commands for authentic Christian living. In his letter, James, the brother of Jesus, instructed Christians to control their tongues, be slow to anger and fight selfish ambition. But James was not interested in simply sharing a list of things Christians should not do—he also included a number of positive commands for believers.
Just as Jesus spent much of His ministry among those neglected by society, followers of Jesus are commanded to care for and show concern for people who are orphans and widows, the underprivileged, and for sinning brothers and sisters. James placed a specific emphasis on believers emulating the everyday ministry of Jesus within their own lives by showing compassion toward the broken-hearted and poor and by avoiding sin.
The disciples of Jesus should not merely listen to the words of Jesus; they should actively seek opportunities to engage the world with His life-changing message. Just as with Jesus, a believer's relationships with others—be it family, friends, co-workers or a person who is begging on the street—should be defined by love, mercy, patience and grace.
DISCUSS
James tells us to be "quick to hear, slow to speak." Have you had situations where you did the opposite—slow to hear, quick to speak? What's the problem with that?
What does James say about anger?
Is there such a thing as "righteous indignation"? Do you think that sometimes God wants us to get angry about certain things? Then what do you do with verse 20?
What "word" is he talking about in verse 21? How is it "implanted" in us? (Is this the same as the "word of truth" in verse 18, through which we were "brought forth"? What's the connection?)
Moving on to James 1:22, how do we "deceive ourselves" by just listening to God's Word?
What is that mirror thing all about (in James 1:23–24)?
Do you think it's really "worthless" to hear God's Word without doing it? Why or why not?
In verse 25, what does James call God's law?
In what way is the law "a law of liberty"? Wouldn't you think it does the opposite?
Verses 26–27 focus on "religion." How would you define "religion"?
Do you think of religion as a good thing or not? Do you think your neighbors think of religion as a good thing?
With that in mind, do you think James is using the term "religion" in a positive way? Why or why not?
In verses 26–27, how does James define "religion"?
There are three specific actions he includes in his definition. What are they?
Why do you think he mentions these three? Aren't there other good deeds he could name?
LIVE IT OUT
The book of James emphasizes the active side of our faith, so let's consider several ways we might put its teaching into practice.
Memorization: Learn James 1:22. Perhaps you could write it out on a card, which you put (appropriately) on your mirror.
Conversation: Do you need to develop the ability to be "quick to hear, slow to speak"? Is there a particular person in your life with whom you should do more listening? Work on this. You might even think of some questions to ask in your next conversation. Focus on them, not on your own responses.
Journaling: If you have a Bible study journal, add this component. If not, try journaling this week. Take the next six pages and put four headings on each page. Read. Think. Pray. Do! Then select Scriptures to read each day. As you do, record your thoughts on the text, write out key words of a prayer, and then—because of James—figure out something God would like you to do in response to that text. Oh, yeah—and then do it.
Prayer: Pray specifically about two things this week. (1) Your anger. (Even if you're not hot-tempered, do you "stuff" your anger and let it turn into bitterness?) (2) Soul pollution. Ask God to show you ways you might be getting "polluted" by the world.
"Widows and Orphans": In many parts of Scripture—and here in James—we are urged to care for the neediest members of society. In your area, who are these people, and how can you help? It's possible they are, literally, widows and orphans, having suffered the loss of a family member. But also consider the homeless, the hospitalized, retirees, special-needs children and adults, the unemployed, immigrants, prisoners, etc. See if your church has a ministry you could support and become involved with, but also consider parachurch ministries and other charities.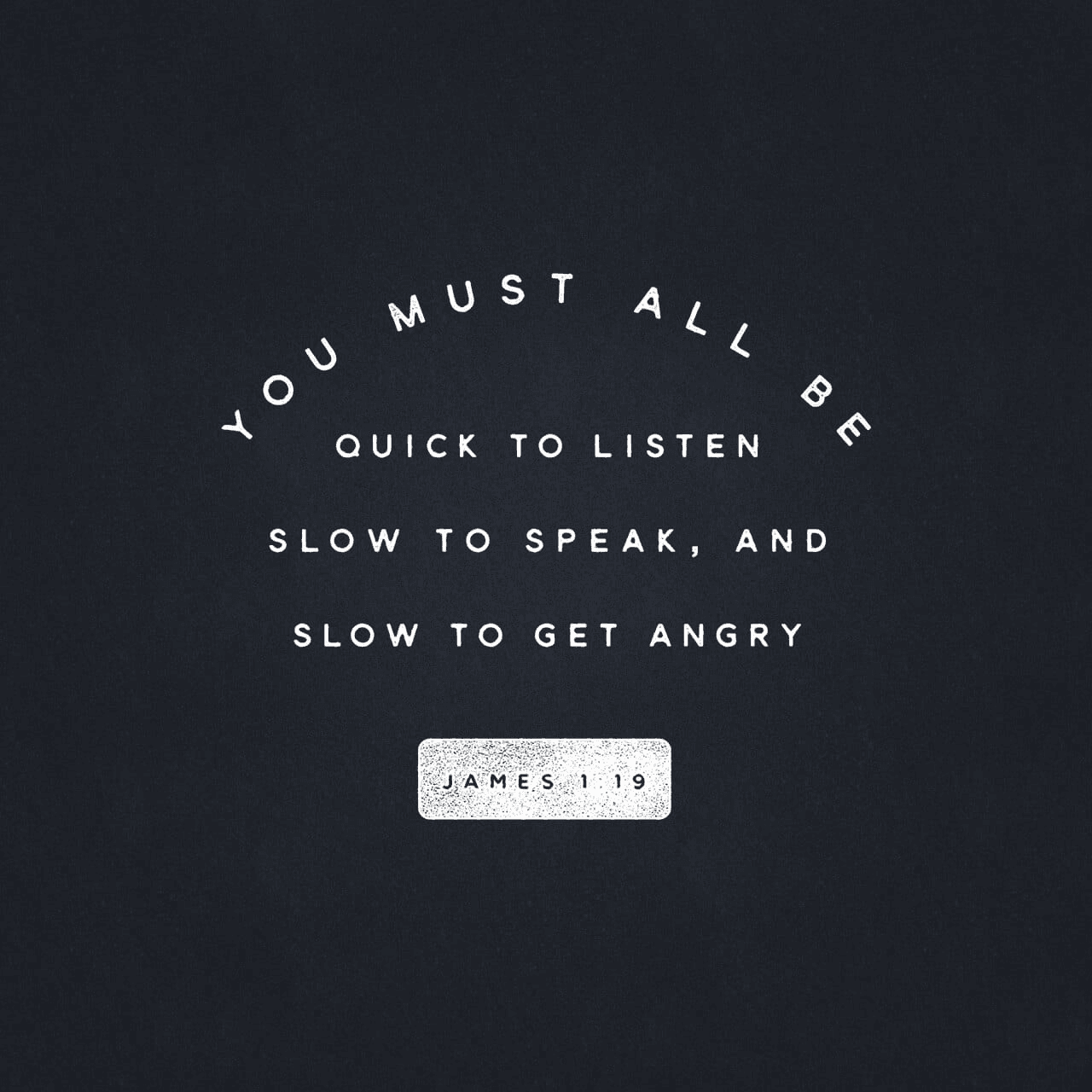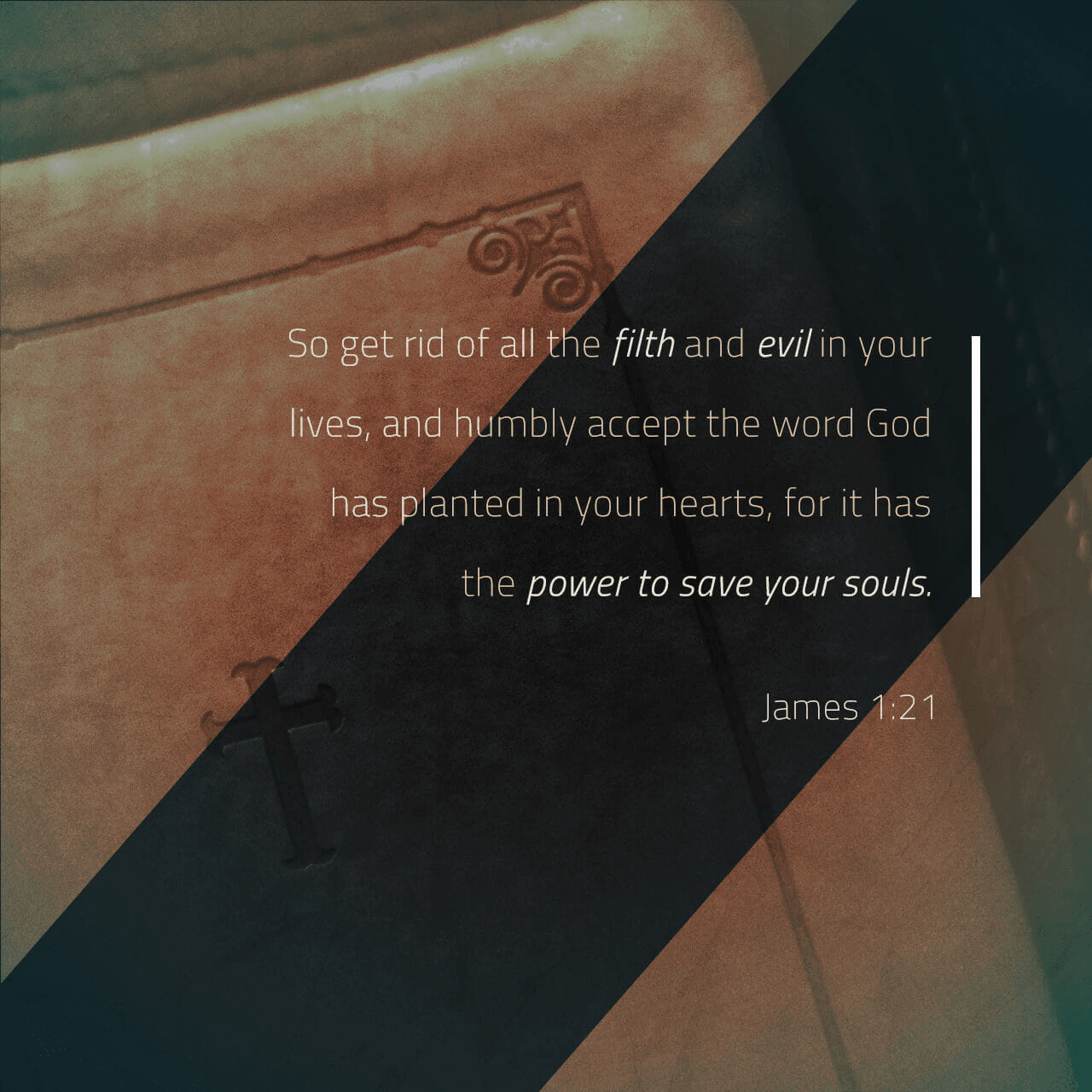 ---
JAMES 1, PT. 2
APRIL 26, 2020
KEY SCRIPTURE (JAMES 1:13-18):
Let no one say when he is tempted, "I am being tempted by God," for God cannot be tempted with evil, and he himself tempts no one. But each person is tempted when he is lured and enticed by his own desire. Then desire when it has conceived gives birth to sin, and sin when it is fully grown brings forth death.
Do not be deceived, my beloved brothers. Every good gift and every perfect gift is from above, coming down from the Father of lights, with whom there is no variation or shadow due to change. Of his own will he brought us forth by the word of truth, that we should be a kind of firstfruits of his creatures.
DISCUSS
Earlier in the chapter, we learned that God uses trials to help us grow. But here James is talking about temptation. What's the difference?
Why is it important that we NOT blame our temptation on God?
Verses 14–15 describe something we might call the "life cycle of desire." What are the stages?
Does "evil desire" always bring forth "death"? How does this happen? What examples could you give?
In light of this, what's the best way to deal with our "evil desires"?
Why do you think James suddenly starts talking about "every good and perfect gift" in verse 17, after talking about evil desires? Is he just changing the subject (which he does sometimes), or is there a connection?
Why does he call God "the Father of lights"? What does that have to do with giving gifts?
How has God "brought us forth by the word of truth"?
What does he mean by "firstfruits of his creatures"?
LIVE IT OUT
The book of James emphasizes the active side of our faith, so let's consider several ways we might put its teaching into practice.
Memorization: Learn 1 Corinthians 10:13; Hebrews 4:15–16; Matthew 26:41; Psalm 51:10; and/or another verse that applies to a particular temptation you struggle with.
Journaling: Write about your temptations and how you respond, but also about the joys you experience when you resist temptation. How does your relationship with God grow and soar when you trust Him?
Prayer: Think about others you know who are being tempted. Pray that God will strengthen them. But don't let these be proud prayers—"watch yourself, or you also may be tempted" (Galatians 6:1). Include The Lord's Prayer in this devotional time, with special focus on "Lead us not into temptation."
Accountability: Look for others you can share your struggles with. Can you arrange to meet with them every week or two, and let them know how you're doing? Fighting temptation can be a lonely business, but it doesn't have to be. When you know there's someone else holding you accountable, it might give you additional strength.
Joining or Volunteering: Our culture is full of temptations, and there are many whose lives have been ravaged by greed, lust, pride, or addictions of various sorts. There are also ministries that help those strugglers. Is there one you could connect with—as a volunteer, donor, or fellow struggler?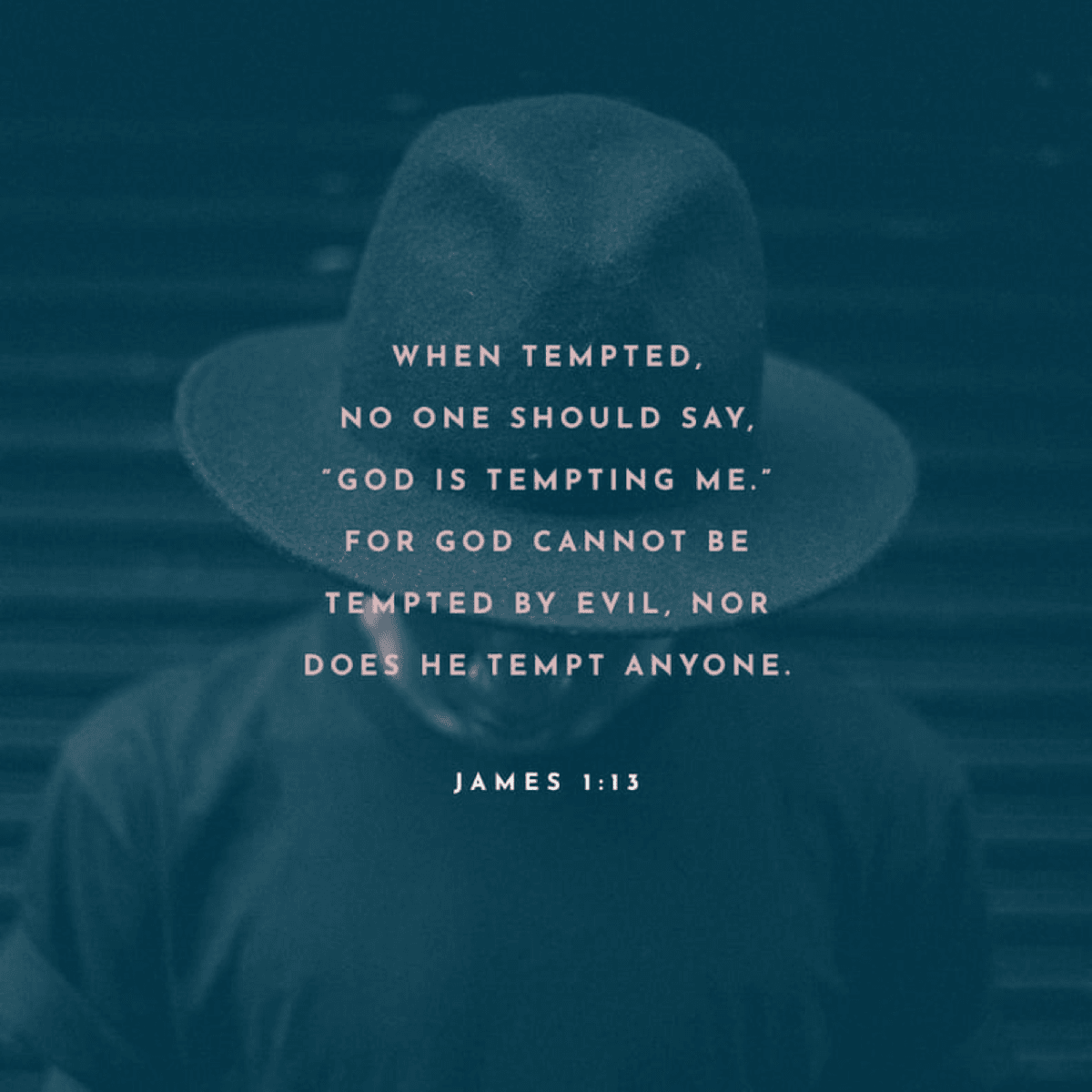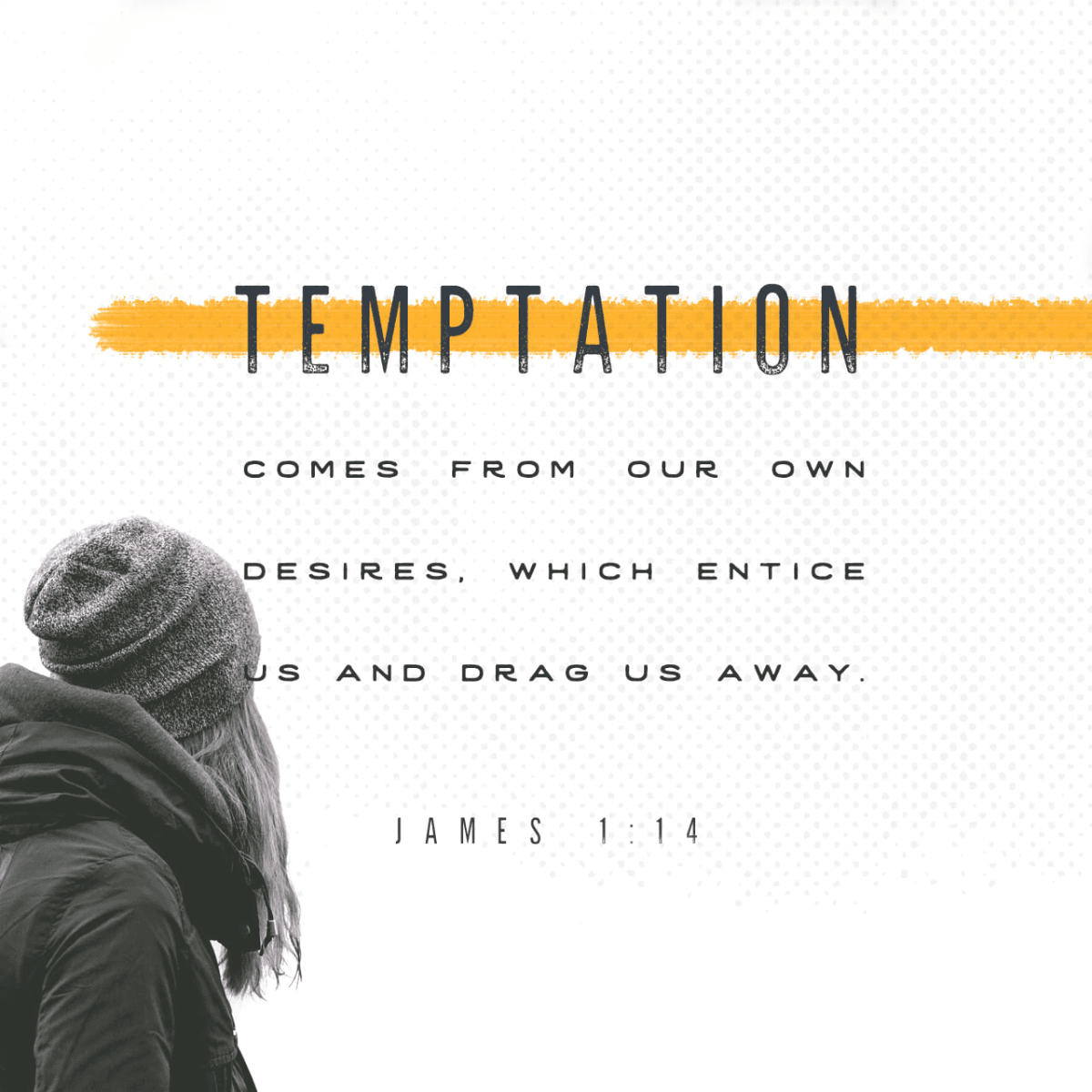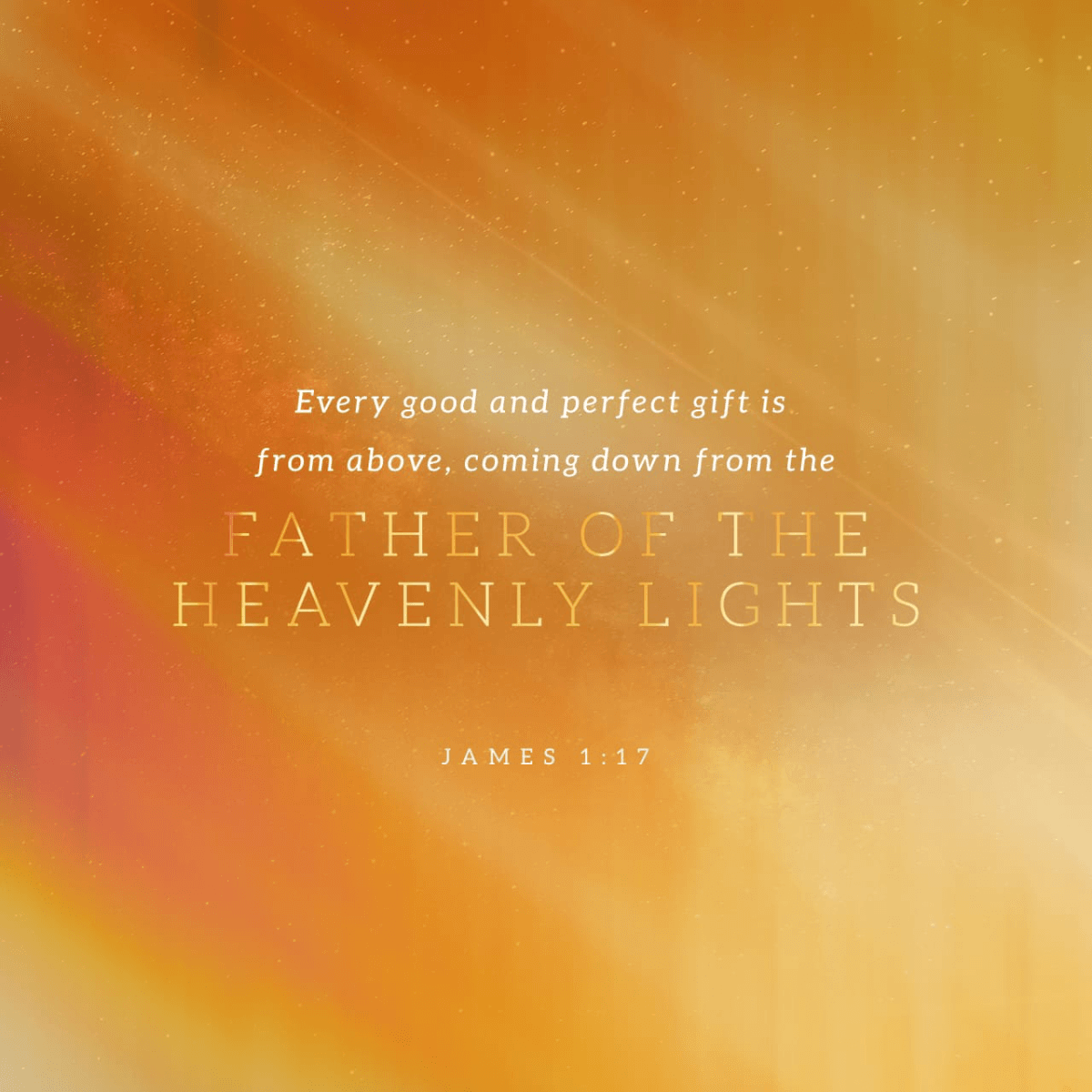 ---
JAMES 1, PT. 1
APRIL 19, 2020
KEY SCRIPTURE (JAMES 1:1-12):
James, a servant of God and of the Lord Jesus Christ,
To the twelve tribes in the Dispersion:
Greetings.
Count it all joy, my brothers, when you meet trials of various kinds, for you know that the testing of your faith produces steadfastness. And let steadfastness have its full effect, that you may be perfect and complete, lacking in nothing.
If any of you lacks wisdom, let him ask God, who gives generously to all without reproach, and it will be given him. But let him ask in faith, with no doubting, for the one who doubts is like a wave of the sea that is driven and tossed by the wind. For that person must not suppose that he will receive anything from the Lord; he is a double-minded man, unstable in all his ways.
Let the lowly brother boast in his exaltation, and the rich in his humiliation, because like a flower of the grass he will pass away. For the sun rises with its scorching heat and withers the grass; its flower falls, and its beauty perishes. So also will the rich man fade away in the midst of his pursuits.
Blessed is the man who remains steadfast under trial, for when he has stood the test he will receive the crown of life, which God has promised to those who love him.
DISCUSS
According to verse 1, who was the author of this letter?
Who was James? How does he describe himself?
Why do you think James didn't introduce himself as the brother of Jesus? Wouldn't it help to say, "I know what I'm talking about, because I knew Jesus like a brother—in fact, I am His brother"?
According to verse 1, who are the recipients of this letter?
What does that mean? Why does James say it that way?
According to James 1:2 and the following verses, how should we react when times get tough?
Why? What is the end result of this "testing"?
Do you think people expect God to make them happy? Is that a wrong idea?
If you made this the "goal of your life," to grow in holiness even if it meant suffering, how would that change your life? What decisions would you make differently? How would you have to adjust your priorities?
Is that a realistic idea?
LIVE IT OUT
The book of James emphasizes the active side of our faith, so let's consider several ways we might put its teaching into practice.
Conversation: Some of us complain a lot. What if we followed James and started considering our troubles "pure joy"? Who could you contact this week—by email, phone, text, or in person—and instead of complaining, tell them about the way God is helping you grow?
Journaling: Write about your struggles. Don't hold back. Complain all you want. But then go back to your journal the next day and jot some notes in the margins about how God might be making you "mature and complete."
Memorization: Learn James 1:2–3, and maybe verse 4. This will be a powerful support to you in your toughest times.
Prayer: Consider others you know who are going through difficulties. Ask God to help them grow.
Influence: Have you seen spiritual growth in someone else who has gone through trials? Tell them so.